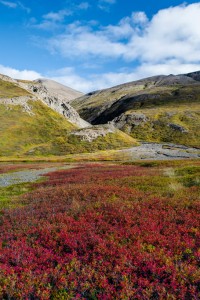 Personally, what makes Flateyjardalur one of my favorite places is that it is not a "tourist trap". While there, one is highly unlikely to meet others. If one encounters another vehicle, it is most likely a local resident from the region. The surroundings in this area are pure and magical. It appears untouched, truly a Primeval landscape.
Flateyjardalur is a valley in northern Iceland on the Flateyjarskagi peninsula. The valley stretches north from the Fnjóskadalur valley up to the Skjálfandi bay. Flateyjardalur is named after the island of Flatey, which lies just off the coast. Finnboga saga ramma, one of the Icelandic sagas, takes place in the valley. The last inhabitants left the valley in 1953. That same year, a road was built from Fnjóskadalur to Flateyjardalur connecting the valley to other parts of the region. There are three concrete houses in the valley which were built in the late 1920s. Today, these houses are only inhabited seasonally during the summer months.
An excursion to Aldeyjarfoss waterfall can also be included on request.)
This is a private daytour. Tour dates start when the road opens after the winter, usually in the last days of June, and are available until the winter comes and the road closes.
Tour price: ISK 145.000,- for private tour with maximum of 4 passengers (comfortable for 3).
Pick up at your selected location, for example Laugar, Akureyri or Akureyri airport, Húsavík, Húsavík Airport or the Mývatn area.
Departure time is on request.
Tour duration: Approx. 5-12 hours (it can be tailor-made to your needs) I recommend 8 hours.
Included is a guided tour and transportation.
Refreshments are not included in price. Please bring a lunch package and drinking water along with warm clothes.
Private tours can be tailor made in any way to fit your needs and interests.
For more information and booking, contact me with email: kip@kip.is
Here are my pictures from tours to Flateyjardalur in September and June 2015: